Shuck's Shack has everything you need when you stay in Medora. It glows with that special charm that can only be found in western North Dakota.
Please contact the Theodore Roosevelt Medora Foundation for reservations, rates and availability by filling out our online form here or by calling 1-800-MEDORA-1 (1-800-633-6721).
Sorry, but no pets or smoking allowed at the Wooly Boys Inn.
Living Space:
Sofa/sleeper
Fireplace
Kitchenette
Dining table
Smart TV
Western décor
Bedroom:
Two queen beds
Ample closet space
Ceiling fan
Bathroom:
Sink and toilet
Shower/bathtub
Linen Cabinets
Hair dryer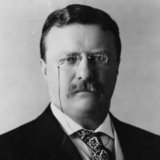 TEDDY ROOSEVELT
26th President of the United States
Now and then we hear the wilder voices of the wilderness, from animals that in the hours of darkness do not fear the neighborhood of man: the coyotes wail like dismal ventriloquists, or the silence may be broken by the snorting and stamping of a deer.
